VELOSEF Cap 500mg 12's
VELOSEF Cap 500mg 12's
Uses
It is used to treat bacterial infections such as urinary tractinfections, skin infections, chest and throat infections, ear infections andsinusitis
Side Effects
Diarrhea, nausea, vomiting, or upset stomach may occur. If any of these effects persist or worsen, tell your doctor or pharmacist promptly.
When not to use
It is contraindicated for use in patients with cephalosporin or penicillin hypersensitivity.
Velosef (Cephradine) is a semisynthetic cephalosporin antibiotic; oral dosage forms include capsules containing 250 mg and 500 mg cephradine and cephradine for oral suspension containing, after constitution, 125 mg and 250 mg per 5 mL dose.
Cephradine is designated chemically as (6R, 7R)-7-[(R)-2-amino-2-(1,4-cyclohexadien-1-yl)acetamido]-3-methyl-8-oxo-5-thia-1-azabicyclo[4.2.0]oct-2-ene-2-carboxylic acid. Structural formula: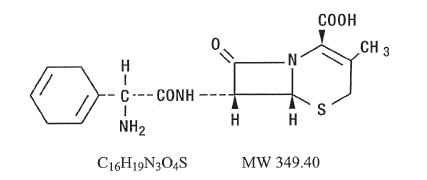 Inactive ingredients: Velosef Capsules—colorants (D&C Red No. 33 and Yellow No. 10; FD&C Blue No. 1, and, for '250' only, Red No. 3), gelatin, lactose, magnesium stearate, talc, and titanium dioxide. Velosef for Oral Suspension—citric acid, colorants (FD&C Red No. 40 for '250' only; FD&C Yellow No. 6 for '125' only), flavors, guar gum, methylcellulose, sodium citrate, and sucrose.
Velosef – Clinical Pharmacology
Velosef (Cephradine) is acid stable. It is rapidly absorbed after oral administration in the fasting state. Following single doses of 250 mg, 500 mg, and 1 g in normal adult volunteers, average peak serum concentrations within one hour were approximately 9 mcg/mL, 16.5 mcg/mL, and 24.2 mcg/mL, respectively. In vitro studies by an ultracentrifugation technique show that at therapeutic serum antibiotic concentrations, cephradine is minimally bound (8 to 17 percent) to normal serum protein. Cephradine does not pass across the blood-brain barrier to any appreciable extent. The presence of food in the gastrointestinal tract delays absorption but does not affect the total amount of cephradine absorbed. Over 90 percent of the drug is excreted unchanged in the urine within six hours. Peak urine concentrations are approximately 1600 mcg/mL, 3200 mcg/mL, and 4000 mcg/mL following single doses of 250 mg, 500 mg, and 1 g, respectively.
POPULAR SEARCH.
VELOSEF 500 MG, VELOSEF, VALOSEF, VELASOF,VELISAF, VELOCEF,VELOSCEF, VELOSEF CAPSULES PRICE, BEST AND ORIGNAL CAPSULES VELOSEF, USES VELOSEF CAPSULES,